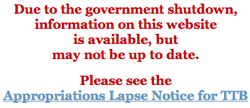 The federal government has shut down "nonessential" services as of today. Surprisingly, that means that the federal agency that regulates the wine industry is also largely shut down. This is surprising because the agency collected $26 billion in revenues for the government–you'd think they would want to keep that flowing.
I spoke with a staffer at the TTB a few weeks ago while I was writing a story about wine label art. In the course of our conversation, he told me that the agency has experienced a surge in requests for label approvals. When they were formed ten years ago, they received 89,000 requests for label approvals whereas today they get 152,000 label requests. A 40% growth in wineries and a 60% rise in brewers have driven the surge. (Meanwhile, because of budget cuts, their headcount has been reduced from 520 to 471 over the same period.) I also spoke with some vintners who complained that the label approval process had slowed this year in the wake of the sequester. And now with the shutdown it will have ground to a halt.
Whenever TTB officials return to work they will have a ton of wine labels awaiting their review. The whole situation is enough to drive one to drink…
Before the shutdown occurred, the TTB did take a preliminary step to approving 11 new AVAs within the existing Paso Robles AVA.