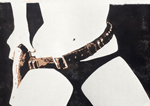 Why have the federal authorities rejected a wine label with a nude photo yet waived through several with nude art? Why is swearing and double entendre allowed while someone driving a car is not? And what about guns?
I explore the vicissitudes of wine labels that push the boundaries of acceptable in a post over on Details.com. Check it out for a look at some racy labels, including some rejected labels that have never been seen by a broad audience before.
If you were the all-powerful regulator of wine, what would be your litmus test for allowable art on wine labels?
"Wine labels gone wild" [Details.com]