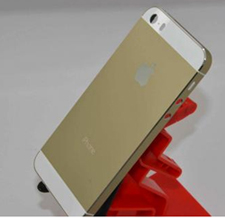 Apple unveils a new line of iPhones next week. Rumored among the changes is a gold-hued exterior that the company is purportedly calling "champagne." Cool, right?
Not if you work at the CIVC, the Champagne trade bureau. Their representatives have taken a dim view of the use of their protected term publicly decrying the term. One told L'Union that as opposed the term Bordeaux, which has a color connotation, champagne is not associated with one hue, so Apple is freeriding on the goodwill of the term (my loose translation). Elsewhere, they have noted it is a protected term in the EU.
What say you: tempest in a tastevin?
Either way, maybe Apple will call the color chardonnay–I hear the grape's lobby is not as well funded as Champagne. Stay tuned for the details from Apple on September 10.