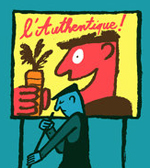 Stephen Erlanger, the Paris bureau chief of the NY Times, holds forth on the notion of terroir in the opinion page.
The concept is fascinating for its power to readjust markets along quality lines for products that might be prone to commoditization (hmm, I recall reading a brilliant book about this somewhere. . .). It's clearly political since lines have to be drawn somewhere and those outside the zone might even stage bloody protests, as happened in Champagne 100 years ago, for example. The idea could be interpreted as conservative since it contributes to propping up a rural, yeoman sort of life.
But Erlanger overreaches when he writes that "The notion of terroir is essentially political, at heart a conservative, even right-wing idea." There's nothing right-wing about it: I haven't heard Marine Le Pen on the stump arguing for the AOC by saying, "Long live Volnay! Down with vin de table!"
Although terroir is a powerful concept, it has limitations administratively as the AOC system has shown. Also, it's not the only way to signal quality or even protect quality, as a company brand (estate name) can often serve as a better indicator of quality than simply reading the place name. Also, if you're looking for a product that's made in a certain way–Biodynamically grown, fair-trade certified–there are tons of organizations that offer third-party certifications that have little or nothing to do with terroir.
Erlanger concludes his piece with a doozy: "The preservation of terroir is finally a kind of unwritten conspiracy between the farmers and the wealthy, as well as the bourgeois bohemians of the big cities, who will pay more for quality, for freshness, for artisanal craft and for that undefinable authenticity that is the essence of terroir."
Ah, bourgeois bohemians–I thought David Brooks had his own space on the op-ed page? But, really, a "conspiracy"? Sorry, but I didn't know that tin-foil hats came in AOC styles.