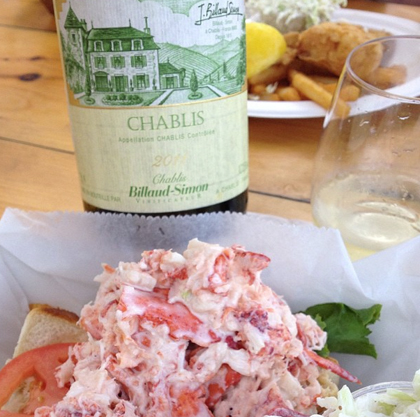 The past few summers, wholesale lobster prices have plunged lower than the ocean floor. Yet lobster prices in restaurants have remained unaffected, a disconnect I have pondered over many a lobster roll washed down by Chablis or Champagne.
Apparently, James Surowiecki, who writes the New Yorker's The Financial Page, has also stared down the same disconnect but he has taken it one step farther: he has written this week's column about it.
In short, he finds that commodity pricing doesn't apply to lobster since it is entrenched as a luxury good in the food world; cut the price and people may actually be turned off as they think it's inferior quality. In the world of luxury products, psychology matters more than than the cost of raw materials.
He also notes Simonson and Tversky's work on context-dependent preferences and choices. They found that if consumers were presented with a low-priced and mid-priced object to choose between, the selections would be split. But if a third, higher-priced object was added to the product mix, then consumers chose the mid-priced item 40% more often.
Lobsternomics has some application to the wine world. If input prices were to fall for high-end grapes, it's unlikely producers would cut wine prices for the similar psychological reasons (indeed, we saw this with the flash sales after 2008 instead of outright price cuts).
Also, Simonson and Tversky's work is applicable to wine lists where the mere presence of DRC on a wine list may move more malbec. What do you think about the effect of relative pricing on wine lists (or stores)?
But one way that the law of supply and demand is not repealed in the world of wine is when the cost factors go up. Then, as when hail vastly reduces supply, the relative scarcity forces prices up; whether they fall again remains a matter for empirical research–and consumer psychology.