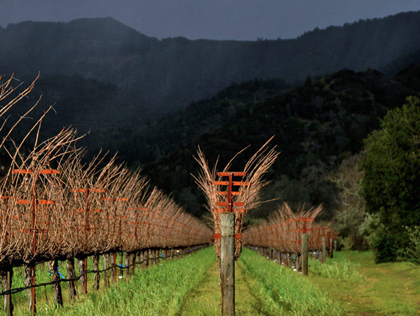 The famed Eisele vineyard of Napa Valley has a new owner: Francois Pinault, number 74 on the Forbes billionaires list. Pinault's Artemis Group, which owns Chateau Latour among other wine properties, has agreed to purchase Araujo Estate Wines from Bart and Daphne Araujo. The price for the 162 acres, including the 38-acre Eisele vineyard, was not disclosed in this statement.
"Araujo Estate and its jewel, the unique Eisele Vineyard, have been producing consistently one of the very best wines of Napa Valley," Frédéric Engerer, CEO of Chateau Latour, said in the statement.
Pinault put his deep pockets to use recently. He made wine headlines by removing Chateau Latour from en primeur system and selling the wines only when "ready to drink." The current grand vin offering this spring was the 1995 vintage. It will be interested to see what perhaps the first billionaire in Napa will do with the Araujo Estate.
The Eisele Vineyard had zinfandel and riesling grapes as far back as 1886. But the northern Napa vineyard gained renown for cabernet sauvignon planted in 1960s under the ownership of Milt and Barbara Eisele. The Eiseles sold the grapes to Paul Draper at Ridge, Joseph Phelps, and Conn Creek who all made vineyard-designate; the Ridge 1971 Eisele was a notable early standout. Bill Phelps told me that his dad, Joseph, lamentably took a pass not once, but twice on acquiring the vineyard. The Araujos purchased the property in 1990. They converted it to biodynamics in 2001.
In a 2010 profile, Jon Bonné described the uniqueness of the geology of the vineyard: "Many Napa vineyards enjoy the mineral richness of sediments washed down from the hills, but what makes Eisele unique is its location at a confluence of two watersheds high above: the Palisades and Saddleback, which send a mineral bounty flowing down toward the Napa River, creating soil that's a deep, intensely rocky agglomeration of rough cobbles and coarse sand."