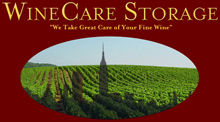 So much is underwater these days, from homes that are below their cost basis to homes stricken by Hurricane Sandy. Given this backdrop, it seems almost trivial to talk about lost wine. But that is our beat and there's a big case that has bubbled up to page one of the NYT today.
The case involves missing wine and high-profile individuals slinging lawsuits. Sound familiar? Well, this is not a counterfeiting case. In fact, it is the story of WineCare, a wine storage facility that has an estimated 27,000 cases in its facility. The cellars were flooded during Hurricane Sandy and collectors have been denied access to either their wines or even surveillance video to show how much damage has been done. According to the story, Keith McNally who was forced to buy $2 million of wine for his restaurants after his wine stored at WineCare became inaccessible. One collector, the hedge fund manager Donald Drapkin, estimates the value of his wine at the facility was $5.2 million. WineCare has now filed for a bankruptcy reorganization that includes moving the remaining wines to a location in New Jersey.
The WineCare web site, still operation, states, "WineCare Storage LLC is committed to excellence in every way, in our work ethic, in the services we provide, and in our relationships with our clients, vendors, employees, related industries and communities."
Just out of curiosity, do those who advise wine as an alternative investment ever mention the perils of collecting?
"More than a Flooded Cellar. A Vintage Mystery." [NYT]