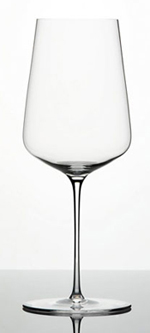 I can tell that Father's Day is rapidly approaching: my email box is full of pitches about wine suitable for the occasion. Wait, isn't pretty much any wine suitable?
Well, as I've written before, all wines are enhanced by good stemware. The titanium-infused line of "impact-resistant" stemware from Schott-Zwiesel have their virtues. At about $10 a stem, you could even break a few but they really are pretty resistant.
I recently splurged on a pair of gorgeous Zalto Universals, hand-crafted crystal stems from Austria. They are so elegant and weightless that they almost take the glass out of wine drinking–somehow, the fermented grape juice is constrained beautifully on display, the aromas concentrated, and the wine ultimately swishes over the palate while hardly sensing the glass rim. They are so thin it took my wife a couple of weeks to overcome a fear that they would shatter merely upon casting them a wayward glance. But we've had the set for a couple of months now, enjoying Champagne, Burgundy and Barolo in them, with nary a break (hope I didn't just jinx it). I have yet to find more pleasurable stemware.
I bumped into Aldo Sohm, the head sommelier at Le Bernardin whose signature adorns the glasses, a few weeks after I got mine. He shocked me by telling me to throw them in the dishwasher to clean them. Eeegad! I continue to hand wash but good to know that the dishwasher is authorized by the highest authority.
Even though they are pricey at $60 each it sure would be nice to share a pair with a wine geek dad.
Available at Crush and Winemonger.