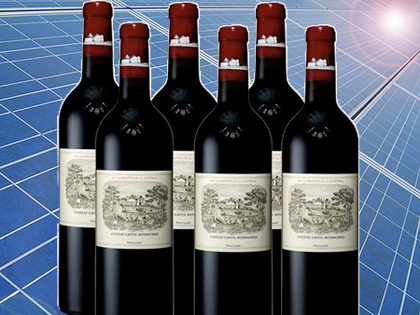 China is waving a broken wine bottle in international negotiations: in retaliation for EU tariffs of 11.8% against Chinese solar panels, Chinese authorities have threatened to place trade barriers on EU wine. The EU alleges that China dumps solar panels below the cost of manufacture and China alleges the same thing for EU wine, pointing to subsidies to the industry. See this Reuters account for details.
But who really stands to lose, European wine producers or Chinese consumers who have acquired a taste for European wines? Well, surely the Lafite crowd in mainland China won't be crying into their Riedel stemware as they could likely afford to pay any new duties. (Notably, wine coming into Hong Kong would still be exempt.) But it could shift Chinese consumption to other parts of the wine world, such as Australia or the US. Or maybe it would spur interest in domestic wines from China. Or maybe it would snuff out their newly stoked interest in wine. There are always unintended consequences in trade wars.
And, more often than not, tough talk is just a bargaining tactic.