Want to buy a five-pack of Bordeaux wines that Robert Parker scored 100 points? Given the proliferation of 100-point wines these days, that's not the hardest thing to come anymore. No, the ne plus ultra now is a five-pack of RP 100s, sold as a signed set by Robert Parker!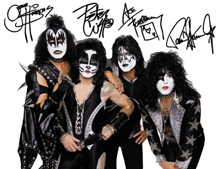 SudOuest has the full story (picked up en anglais over at wine-searcher). Suffice it to say that the five-packs don't include Haut Brion and Petrus. Interestingly, the negociant who put it together said that this would not have been possible before Robert Parker sold a substantial stake in the Wine Advocate late last year to Singaporean investors. The negociant didn't reveal the details of this autographing arrangement, but said there was no commercial angle to the transaction.
No photo was available of the five-packs, so we run one of KISS, who similarly cashed in on autographed items. What will be the next in the Robert Parker line? Stemware by Christmas? After all, Suckling already beat him to that one. Maybe there will be some signed Ralph Nader memorabilia for old times' sake.