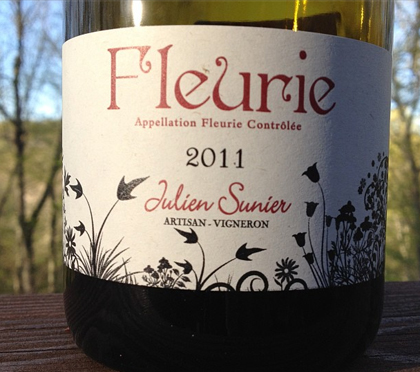 It's going to be a cool and rainy Memorial Day weekend here in the Northeast–boooo! So I'll spare you the dummer quaffers and hit you with something structured yet fun and gulpable at the same time: Sunier, Fleurie, 2011.
It turns out that although Julien Sunier is from Burgundy, he's not from a wine family. In fact, his mother is a hair stylist. One of her customers was Christophe Roumier who allowed young Julien to to work at the Domaine, where he decided that the whole wine thing was pretty fun. After exploring the wine world's corners in California and New Zealand he came back to Burgundy and later Beaujolais, starting making his own wines in 2008. He has parcels in Fleurie, Morgon and Regnié that have old vines, which he hand harvests and uses indigenous yeasts in the fermentations in concrete vats. After the fermentation, the wines are aged in older Burgundy barrels from… Christophe Roumier.
I bought the 2011 Fleurie for $25 (find this wine). It's worth seeking out. I give it my highest (Beaujolais?) rating: quickly emptied.