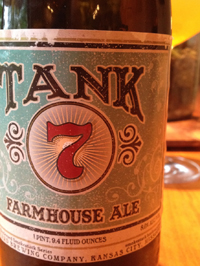 "Craft beer is too hoppy. Discuss." I tweeted that the other day in response to this Slate article. It sparked a good conversation on the twittuh and it seemed worth continuing here.
While I like hops, there are a ton of hoppy and overly hopped beers in the market today as well as high-alcohol beers. But that's okay. It's probably a phase akin to liking high-alcohol, fruity wines dripping with 200% new oak. They're obvious and almost everybody gloms on to them at some point, usually the beginning, of their enjoyment of wine.
But there will likely be a backlash against big beers. As opposed to wine, where wineries can be locked into one style thanks in large part to location and grapes planted, breweries can pursue various styles at once, meaning the backlash could come to fruition quicker than wine. In part, that's what pils and session beers are all about, which are lower in alcohol and refreshing. I had the Tank 7 Farmhouse ale the other evening, which, at 38 IBUs, was not too hoppy (though 8% alc is getting up there but the beer has good balance).
What's your take on hops–the secret to good beer or too much of a good thing?