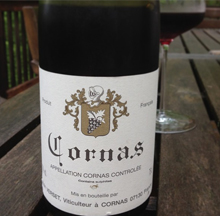 I was in Flatiron Wines last week and the staffer offered to sell me two bottles of Verset they were brokering from a collector. Verset? But didn't he die a while ago? "Not Noël. They're from his nephew Ira," he joked.
He didn't know that much about the producer (whose name is actually Alain but really is Noël's nephew) and neither did I. Nonetheless, I bought the 2005 and said a quick prayer to Bacchus that it would actually be worth $49.95. Seemed like a reasonable bet given the quality of the appellation, the family name, and the store where I was buying it.
When I got home, I turned to The Wines of the Northern Rhone by John Livingstone-Learmonth. He writes that Alain has about one hectare (2.5 acres) of vines sprinkled over some to sites in Cornas–Reynards, Mazards, and Les Côtes, which is not enough to support his family of five children. Thus he works at a factory making garbage cans. Livingston-Learmonth writes that Alain Verset's vinification is traditional–"whole bunches fermented for 10 – 15 days in concrete vats under the family home, and some pumping-overs." Only indigenous yeasts power the fermentation and the wine is aged for up to two years in four- and five-year-old casks. Production is on the order of 900 bottles a year.
Curious and impatient, we uncorked the 2005 over the weekend. It was, indeed, a traditional Cornas, with little in the way of fruit notes, just stony minerals and a stiff backbone of tannin. Over a couple of hours it opened up but on the next day it had softened further. Savory and delicious syrah, the bottle was well worth the tariff. As M. Verset approaches retirement age from his factory job, perhaps he will make a few more bottles a year.