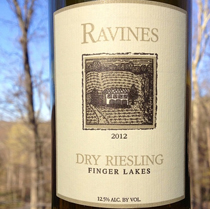 Finger Lakes wines, particularly Rieslings, have gotten a lot of recent attention. So I thought I would check in with them for a piece currently on wine-searcher.com.
One wine that came up repeatedly was the Ravines Dry Riesling (as well as their Argentsinger Vineyard one). I picked up two bottles of the 2012 for $14.99 each and poured them for discerning audiences. First, my wife, who is not generally a huge Riesling fan but she gave this one a thumbs up. I rated it a leading patio pounder for Summer of Riesling 2013. Then I opened the second bottle for my NYU class and poured it blind. Before revealing what it was, I asked them how many of them liked it. All hands went up. When the bag came off the bottle, they were all surprised and doubly impressed.
It seems to be a common reaction with the best Finger Lakes wines, as Thomas Pastuszak from NoMad shares in the piece.
Which are your favorite Finger Lakes wines? Do you think the region is overrated or underrated?