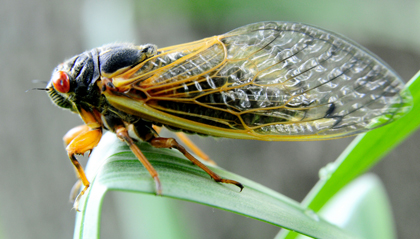 From North Carolina to Connecticut, billions of creatures with eyes the color of blood and bodies the color of coal are crawling out of the earth. Periodical cicadas are emerging en masse, clambering into trees and singing a shivering chorus that can be heard for miles.

What makes this emergence truly remarkable, however, is how long it's been in the making. This month's army of periodical cicadas was born in 1996. Their mothers laid their eggs in the branches of trees, where they developed for a few weeks before hatching and heading for the ground. "They just jumped out and rained down out of the trees," said Chris Simon, a cicada biologist at the University of Connecticut.

Those Clinton-era larvae then squirmed into the dirt and spent the next 17 years sucking fluid from tree roots. NYT
Dear cicadas,
Welcome back! I'm sure after 17 years of sucking fluid from tree roots–as sweet as that is–you're probably read for something a little stiffer, like a good glass of wine.
A lot has changed in the wine world since you were born in 1996 and then stumbled into your Rumpelstiltskin impression. Let's start with that Bordeaux that your parents bought you back in the summer of '96. While Bordeaux on the shelves was still reasonably priced at that time, that was about the start of a big price escalation in Bordeaux. While that's good for people who bought the wine and held (maybe that's what you did during your stupor), it has also priced Bordeaux out of a lot of restaurants and relevancy and into the world of investors and luxury products.
Since 1996, a world of wine has opened up. First it was indigenous grapes in old world countries, rediscovering things like Aglianico in Italy and Albarino from Spain, just to stay with the top of the alphabet. The wine hipsters (look form them as you descend on Brooklyn) had a fling with orange wine but then one prominent somm said he preferred Tecate to these wines, so don't waste your precious time this month on that. But the key point is that the diversity of wines today is tremendous, much more than 1996, from more countries and grape varieties. You're probably interested in value wines since compounded interest from 1996 has been pretty poor and you don't have a lot of purchasing power. So stay within the $12 -$20/bottle range for the sweet spot, particularly for imports.
Here in the US, all 50 states now have at least one winery! And those big, oaky chardonnays that you may remember from 1996 have fallen out of favor. Now, some domestic chardonnay producers invoke acidity, minerality and Chablis as key reference points. And Chardonnay is far from the only game in town. As you flap around the best shops and restaurants, you'll see domestic Trousseau Gris, Semillon, and vermentino just to name a few whites. And Riesling! If you descend on the Finger Lakes area upstate, do try the local Rieslings.
Wine in America is also a heartwarming story, not just from the production side. We're also drinking so much of the stuff–a steady annual increase since even before you were here last–that we're now the largest wine-consuming country in the world. Break out the #1 foam fingers! (Do you guys do that? It would probably get in the way of rubbing your back legs together.)
You or your parents probably bought all their wines on critics' scores back in 1996. That's okay: Everybody was doing it. But it was toward the end of an era. Now people buy wines more from recommendations of friends or from web sites. Oh yeah, since 1996, this thing called the Internet has really taken off. Wine consumers of all stripes use it to find info about wines and also to fritter away precious hours talking about wines and posting pictures of wine bottles they are currently drinking. Sounds goofy but it is fun–you should get a Twitter handle and join in.
One thing that hasn't changed is that some of the biggest distributors still try to prevent wine consumers from buying wine from other states. Fortunately the Supreme Court stepped in mid-slumber for you and opened up shipping for wineries. But for shops, the market remains frustratingly closed–crazy when you think of all the stuff you can buy on the Internet.
Anyhoo, you've probably got enough to chew on and suck down for this month. Good luck with the mating and remember that if your partner says he or she likes bug eyes, it's probably the Moscato talking.
See you in 2030! Hopefully America won't be in financial ruin, wine writing will still be a profession, and Americans will still be drinking wine, hopefully with a higher per capita consumption rate than Equatorial Guinea.