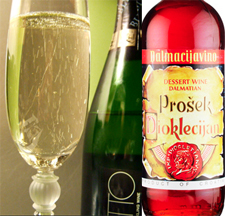 Croatia is set to become the 28th member state of the EU on July 1. Yet the membership has hit a vinous snag: the EU requires that winemakers drop the local wine name "Prosek" since it sounds too much like Prosecco from Italy. Yet the two wines are different since Prosek is sweet, still and centuries-old while Prosecco is (mostly) dry, fizzy and a more recent creation.
"I can't even think what would happen if our Prosek disappears," a leading maker of the wine told the AP. He continued, "Every house here has been making Prosek. Taking Prosek away from Dalmatia would be like taking away the sea."
What do you think–a travesty or necessary? Either way, I'm sure the "Champay" producers of red sweet wine from Turkey are reconsidering their EU support.