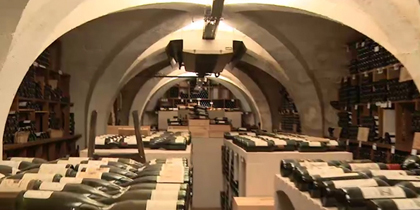 President Francois Hollande has many notale differences from his predecessor. But the one that most concerns us: he actually likes wine.
So it may come as somewhat of a surprise that he is trimming the presidential wine cellar, putting 1,200 bottles–about 10 percent of the stash–on the block. But at least it's for a good cause since the sale at the end of May will go toward a cellar rehab.
The cellar has some gems, as you might expect, including 1990 Petrus. But all the wines have the patina of the state functions. Virginie Routis, chef sommelière of the Palace, made the selections about which wines to put on the block. Kapandji Morhange will start the sale on May 30.
Thanks to a 2012 posting on La Feuille de Vigne, we have some intel on who liked what at the Elysée:
* Charles De Gaulle created the wine cellar
* Madame Chirac had a weak spot for Pauillac wines, which explains why they are overrepresented.
* St. Estephe? The site credits these selections to Mitterrand.
* Burghound? That was Valérie Giscard d'Estaing who was a member of the Chevalier du Tastevin.