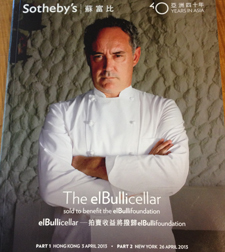 Ferran Adria was in town last night to promote the auction of wines from the El Bulli cellar later today.
In a talk, the renowned innovator and leading protagonist of molecular gastronomy laid out what's happening at the new El Bulli Foundation, the successor to the famed restaurant. The sprawling project includes a museum at the site of the El Bulli restaurant outside of Barcelona, a center in the city ("El Bulli DNA") which will host 20 chefs as interns, and an online knowledge base known as "El Bullipedia." It's set to open March 15, 2015.
For one fleeting month of the year, the center in Barcelona will provide dining experiences (they will not take reservations). Half the seats will be to students and others as a form of social work. The other half will be allocated to members, with membership capped at about 200. "The first who have the chance to become members will be those who have helped us through the auctions in New York and Hong Kong," Adria told the group in the large hall on the seventh floor at Sotheby's. Members will also be able to spend a day with the creative team.
Along with Adria were two sommeliers from the restaurant who continue to work with the foundation. I asked them about the challenge of pairing wine with such unusual dishes. David Seijas said it was a "nightmare" pairing wines with the food since, among other factors, diners were presented with 50 (!) courses in a meal during the last year of the restaurant. Aside from the sheer number of dishes, he said a challenge was to follow the unconventional ordering which could zigzag from vegetables to seafood to game and back again with diners never knowing when a sweet course was coming or even if it would be the end. "There is no order," he said, "there is only Ferran's order! He loves surprises."
Ferran Centelles, the other sommelier, agreed that it was impossible to pair wines with every dish and that they suggested a "classical" approach that was heavy on "versatile" wines, particularly champagne, Riesling, and Albraino. David noted that in the battle of food or wine supremacy, "we lost the war." He said that diners would typically order multiple bottles.
David noted that they liked to serve the wines as their winemakers had made them and not try to zap vanilla beans with lasers into wine glasses or other such fanfare.
I chatted with David a bit more about the shocking decline of wine consumption among younger drinkers in Spain. He said his father, work worked in the front-of-house at restaurants, introduced him to wines at an early age and he loved it. By contrast, Ferran's parents drank Coke and have shown little interest in wine even after he rose to the heights of wine service. They agreed that many younger people in Spain have switched to beer because it's simpler and less intimidating. They say that craft beer is popular in Catalunya now, where there are dozens of local brewers.
So they are hedging themselves: along with Ferran Adria and local brewer Estrella Damm, they have made a beer called "Inedit" in the style of a Belgian witbier. Perhaps as a bridge to wine, it comes in a big bottle and is meant to be served with food.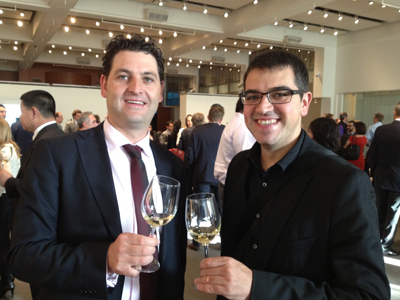 David Seijas and Ferran Centelles, sommeliers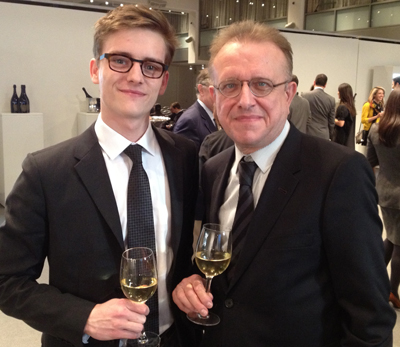 Richard Geoffroy of Dom Perignon and his son Pierre