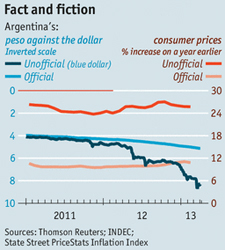 It's no secret that malbec has been on a tear in recent years. I had fun researching a piece on Argentina's adopted grape for wine-searcher magazine. Check it out to read snippets about the transformation of the Argentine wine industry, the rise of malbec there and in export markets, and why Miles from Sideways may have helped open the door to malbec.
Argentina has been on a tear internationally this year with the new Pope, Lionel Messi's passing and scoring acumen, the gracious Ángel Cabrera coming one putt away from a second green jacket, and malbec. One thing that's perhaps not as well known here is that Argentina's economy is suffering what The Economist calls a case of "gaucho blues." In the face of high inflation–the unofficial rate hovers just under 30%–the government of Cristina Fernández has been trying to impose capital controls and mandatory schemes to boost exports by offsetting imports. But they're not working: while the official exchange rate with the US dollar is 5.1 pesos, a side market for "blue dollars" currently is about 9 pesos to the dollar.
For the piece, I spoke with Ed Lehrman of Vine Connections, which imports estate wines from Argentina. He told me that for the first time in a decade, his growers have raised prices to him–some two or three times in the past year simply because they have to pay their workers 30% more than they did last year to keep even with the eroding purchasing power. Lehrman is working with his US distributors to maintain key prices points for his wines as best he can. But he said two things are happening in light of this inflation: more malbec is leaving the country in bulk to be bottled closer to points of consumption and more malbec is being exported at higher price points.
Malbec sales in the US have thus far weathered the economic storm in Argentina by posting strong growth in Nielsen data last year. But if prices rise or quality falls, will this be the year that malbec's decade-plus run in the export markets leads producers to sing the gaucho blues? And, speaking of inflation, given malbec's skew toward retail over restaurants and associated reliance on point scores, does point inflation also pose a threat to the category? What is your anecdotal experience with malbec recently?