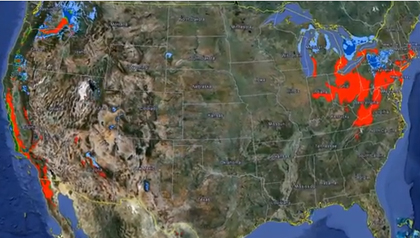 Climate change threatens to redraw the wine map over the next few decades. That we know. A new paper suggests that the establishment of new vineyards in cooler areas will endanger the habitat of animals ranging from grizzlies to pandas.
The findings seem to be structured to grab headlines and cause alarm–who would ever want to hurt pronghorn elk or pandas in the quest for a glass of pinot noir? Sure, the wine industry might need a prod to improve water management or reduce pesticide use. But are there concrete examples where vineyards have threatened habitats and how the potential conflicts were resolved successfully or not? In the absence of such concrete examples, it seems a bit like a bogeyman. I visited vineyards in Constantia last year, right up against the Cape of Good Hope nature preserve, which has abundant biodiversity and the vintners there spoke of living with baboon raids on grapes and how there was little they could do about it.
The paper largely ignores practicality and politics. If the climate is changing, wouldn't there be other (e.g. housing) development pressure in cooler areas? Would other shifts in the environment of the wildlife alter the habitat more than a fenced-in vineyard? And what about preservation efforts–land use regulations in Napa, for example, essentially rendered hillside vineyard development impossible over a decade ago. And pointing to the declining vineyard area of Algeria is a red herring since it was once administratively part of mainland France at the height of French wine consumption, only to have the market removed after independence.
The map of the world's vineyards will indubitably include new lands 50 years from now and it's good that the paper again brings this into the popular discussion. New vineyards should be developed in a responsible way, using policy and including consideration for wildlife. But if we're all drinking grand cru Montana in 2050, we're going to have a lot more to think about than wine–and so will the grizzlies.
"Scientists Question Impact as Vineyards Turn Up in New Places" NYT
"Climate Change Puts the Squeeze on Wine Production" blogs.conservation.org
Climate Change, Wine and Conservation [PNAS]