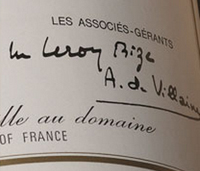 SIPPED: Sleuthing and spring cleaning
Don Cornwell raised questions about the authenticity of some lots at auction in Hong Kong including a 1971 Methuselah of DRC La Tache, which was withdrawn from the sale. The wines were from the collection of Henry Tang whose bid to become Hong Kong chief executive was derailed by a wine cellar at his Hong Kong home built without proper permits. Christie's estimated the value of the sale at $3.7 million. In the end, the collection brought in $6 million. Cleared out some space in the basement, fo sho! [wineberserkers; Bloomberg]
SPIT (OR WORSE): There's quite a, erm, moving discussion on wine berserkers about whether Bordeaux wine has a laxative effect. Serious rebranding possibilities!
SIPPED: somms We all know a gaggle of geese and a murder of crows. But what do you call a group of sommeliers? A flight, a swirl, a six-pack, an assemblage and a drunk came up on Twitter. What's your thought? Bear in mind this advice: "The noun or phrase, whatever it is, has to be greater than the somm of its parts."
SIPPED: rites of spring and stars "I know it's spring when I get the annual press release about Mouton Cadet being official supplier to the Cannes Film Festival…" Jane Anson
SIPPED: grape origins
"I've looked into the origins of the Brangelina grape and can say that its history is the Pitts'." Howard Goldberg