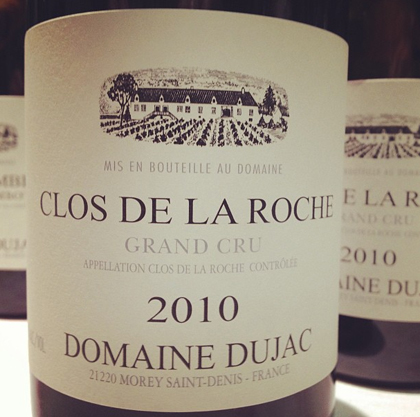 On Saturday, the Grand Tasting at La Paulée de New York brought hundreds of consumers and 35 domaines from Burgundy together under one roof. There were only three brief hours to savor the event and since I arrived an hour late, my task made even more difficult–a difficulty that I would gladly shoulder any Saturday, mind you. Each domaine poured four wines, virtually all 2010s, which are so good that that were almost all sold out long ago.Alas, there were still too many to taste them all in the time that I had.
I dove into a raft of 2010 Dauvissat Chablis, wines of such precision and verve, from the Petit Chablis up to the single-vineyard Preuses, that the tasting could have ended there. But it was just getting started: other stand-out whites included the wines of Pierre-Yves Colin Morey, Domaine Leflaive and Comtes Lafon (who had a really nice Volnay too). These would be perfect any time but were especially delicious on what was the warmest and sunniest day of 2013 in NYC.
On the red side, I ping ponged around, taking in some of the aromas of the foods on the sides of the room and listening to the male choristers from Burgundy. Chandon de Briailles had some lively reds with a spicy, savory quality. Frédéric & Chantal Lafarge were on hand at the adjoining table–I have enjoyed many of their wines from the Bourgogne rouge on up to these wines, the Mitans, Chateau des Duc and the Clos des Chenes, all toothsome treats with loads of prickly, spicy tannins at this stage balanced against fruit. Revisiting these wines in a decade or more would be a treat.
Distractions abounded as there were so many fascinating people in the room as well, from collectors, to sommeliers, to restaurateurs, to fellow scribes. The Chevillion wines were tight but showed good complexity, Mugneret-Gibourg was a table not to miss, Fourrier displayed finesse, and Roumier–wines possessing such poise but also stuffing, suggesting rewards with a lot of time in the bottle. And, finally, the Dujac wines, with Jeremy and Diana Seysses pouring, were terrific across the board. But, in a room of superlative wines, their Clos de la Roche was a knockout.
La Paulee heads to SF next year. But when it returns to NYC the following year, this tasting will likely include the 2012s (assuming that the short vintage yielded enough wines). It's definitely worth putting on the calendar if you have one that goes out to 2015.