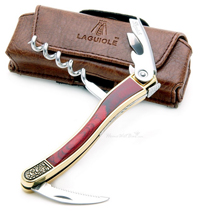 The TSA, in its infinite wisdom, has deemed corkscrews (with small foil-cutting blades as seen at right) safe to bring on planes again.
And knives! (Blades must be under 6 cm.) And whiffle ball bats, hockey sticks, golf clubs, and other items that will be fun to see jostling for space in the overhead bins.
But the big question for wine geeks is: can we please get our confiscated corkscrews back now? Oh, and when will the liquids ban be over?
"TSA Will Permit Knives, Golf Clubs on U.S. Planes" [Bloomberg]