When Antonio Galloni suddenly left the Wine Advocate last month, he took the unusual step of asserting that he owned the copyright to his reviews, particularly the as-yet-unpublished reviews of Sonoma 2011. He has now posted on his new web site a detailed, legalistic play-by-play in an effort to justify taking the reviews.
Yet the choice is crystal clear: let the Wine Advocate publish whatever reviews were done as of his departure. He presented himself as the Wine Advocate's reviewer when conducting tastings in Sonoma and the wineries and Sonoma County Vintners treated him as such. Taking the reviews now seems petty, almost as if he doesn't think his new site will have enough interesting content to attract readers. Adding "out of my deep respect for Bob" and "in the spirit of collaboration" in the posting only underscores how little respect he has for Parker and appears an unseemly effort to scrape whatever readers he can from the WA.
Moreover, Galloni has twice raised protecting "editorial independence" as a reason for quitting. While the Wine Advocate has grappled with reconciling its vaunted code of ethics with the actions of some contributors over recent years, it seems the heights of absurdity that Galloni brings this up at his moment of departure. After all, he's the one who asked the same wineries that he reviewed in the WA to contribute wines to his $1,200/head Festa del Barolo event. The fact that he has yet to articulate an ethics statement for his own web site or say how the WA policy irked him undermine this justification for quitting abruptly.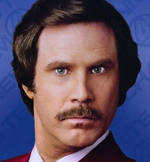 Galloni told the SF Chronicle a couple of weeks ago, "I don't want to be an employee." Clearly, issues with the new regime at the WA are his reason for quitting. Fair enough. But why not just leave it at that, be magnanimous, and move on? Keep the discussion about Burgundy, not Ron Burgundy. Stay classy, San Diego!