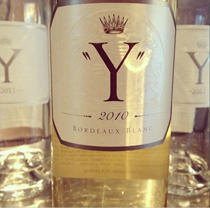 Pierre Lurton's iPhone rang while he was talking to a bunch of journalists yesterday in New York City. He stopped and looked at it, and dismissed it saying, "It's not important. But I had to make sure it wasn't Bernard Arnault!"
It's not every winemaker who checks to see if it is France's richest person on the line. But so it is with Lurton, who Arnault (head of LVMH) tapped in 1991 to manage Chateau Cheval Blanc and again in 2004 to take the reins at Chateau d'Yquem. That estate, maker of the famous nobly rotten Sauternes, was what Lurton was in town to discuss.
Chateau d'Yquem is not a one-trick pony. You could be forgiven for thinking so: making one of the world's greatest sweet wines would certainly be enough for one winery. But they also make a dry white. And Y not, you might ask?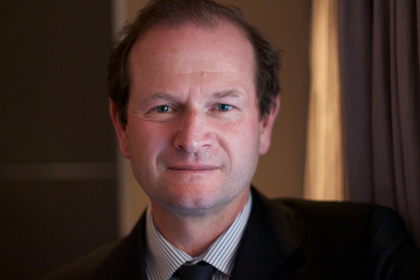 Sandrine Garbay, who has been the maitre de chai since 1998, was with Lurton. We tasted the 2009, 2010, and 2011 of Ygrec, the dry wine, as well as the 2011 Yquem (more on that later). All three are considered excellent vintages, though the wines certainly vary.
The Y (Ygrec) is made up of about 70 percent sauvignon blanc, which provides a core of acidity, while the balance is made up of the wonderfully aromatic Semillon. The wine has 7g of residual sugar, (compared to 130g or so for Yquem) but doesn't taste sweet on the palate. Usually, the sauvignon is picked in the first half of September while the Semillon comes in about two weeks later. That's how it played out in 2009 and 2010. But in 2011, which had a warm spring but a cooler summer, the harvest moved up with the sauvignon being picked in August maintaining the customary two-week lead on the Semillon. Interestingly, the alcohol of the finished wine fell to 14% in 2011 from 15% the year prior. It used to be 100% new oak barrels but that has changed and now it is 70% old barrels, used once for Yquem. There is some batonnage over the 10 months or so in barrel. Production is usually around 10,000 bottles.
As to the wines in the glass, my preferred order of the Ygrecs was clear: 2011, 2009, 2010. The 2010 to me had a lot of richness, but, interestingly it was the only vintage of the three to see no new wood, only one-year-old barrels from Yquem. While it is a big and showy wine, ultimately, I found it to lack the balance of the others with a slightly hot finish. The 2009 hails from the "perfect" vintage: aside from an alluring and telltale vaguely honeyed note on the nose (there is a touch of botrytis in the wine) and gorgeous peachy notes, it had a better balance with higher acidity and an opulent, elegant finish. The 2011 has a nose akin to other dry white Bordeaux (with a touch of honey), but had the most lively acidity of the trio, which give the wine a greater vitality, and a layered finish. It paired terrifically with food.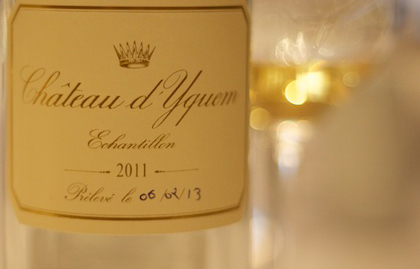 The 2011 Yquem won't be bottled until the fall. Lurton & Co. decided to skip selling the wine en primeur, citing economic conditions. The sample that I tried had terrific aromatics with rich, honeyed complexity, a floral note, some spice component and a peachy, mango, tropical fruit confection: a siren call with enough seductive power to lure mariners or wine enthusiasts and have them crash on the rocks in its pursuit. On the palate, it is unctuous yet delicious balance with the underlying acidity. The finish went on and on, well into my subway ride after the event. Pierre Lurton compared the 2011 as the most like magisterial 2001 of the past decade. I tasted that mind-blowing wine but haven't tasted every vintage in between so I'll have to take his word as this 2011, though young now, was right up there.
Now, on to a few other tidbits:
* Until recently, they actually had a red wine at Chateau d'Yquem but it was just available to the employees who could bring in flagons and fill them from the tank. Crazy! Would love photos of that. Talk about a #unicornwine. But it is no more since it's production has been stopped.
* Lurton has run Chateau Cheval Blanc since 1991 (a miserable vintage, he said, when there was only the Petit Cheval). When he took over, there was some hesitation from the people at the estate first because of his age (33) and then because of his last name, which is connected to many properties throughout Bordeaux. One person asked if he could take his mother's last name instead. To which Lurton replied, "I could but it is Lafite so you might not like that either!"
* He said the 2010 cabernet franc was the best that he had seen during his time at the property. Will have to look for that one!
* Also, he said that when Robert Parker first visited Cheval Blanc the dogs, some fox terriers, greeted him so exuberantly that they bit him on the pant leg. Cheval Blanc got a bad score that year…with notes of fox terrier. The current dog is a poodle, or bichon in French. Bichonner is a slang term for pampering.
* Lurton will attend a Sotheby's auction in New York on Saturday where several vintages (2007 – 2011, including three magnums—the first vintage there has ever been magnums) of Ygrec will be up for sale. One lot will be for nine liters of the as-yet-unbottled Yquem 2011, which the winning bidder can have bottled in any size format he or she would like (up to 6L). And there's a lunch at the estate thrown in too.
* Lurton leads a jet-set life: after the auction on Saturday, he heads back to Bordeaux, where he lives in the Entre-Deux-Mers region with his wife and six children (three have grown up and moved out). Then on Tuesday he's off to South Africa where he consults at Morgenster and has for the past 12 years, then on to Cheval des Andes in Argentina, owned by Bernard Arnault, Albert Freres and Terrazas de los Andes.