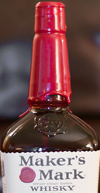 Maker's Mark has high demand, says Beam Inc., the bourbon brand's owner. So high, that they will be lowering the alcohol in the bottle from 45% to 42%, or 84 proof.
Hey, wait–I thought the consumer was the one who was supposed to add the (soda) water! This is clearly some sort of spin on cost-cutting (the tax from the distiller to the TTB comes down with the proof, too). Because, ya know, if it ain't broke…
I tweeted about it earlier and reactions were uniformly negative. Here's one: "This is a dumber move than new Coke. Their brand is now toast."
The official email release pointed to their inability to increase capacity. Why not raise prices? The options seem to be diluting the product, rationing (a mail list or various lot numbers), or raising the prices. The latter would seem to be the classic response to overwhelming demand while diluting seems the least, uh, palatable.
Pappy van Winkle is a cult bourbon, made in limited in Frankfort, Kentucky, where the makers have chosen to ration in the face of high demand. There's a wait list and people pounce on the few bottles as soon as they hit stores (literally, one guy told me he puts on his running shoes and heads to the store the second he hears the allocation has dropped in NY stores). Restaurants offer pours for $75 a shot, so since the distillery hasn't raised prices, many of the gains are going bartenders and flippers.
Anyway, I'm not that into bourbon, whisk(e)y or even spirits. But this seems to parallel Big Beer vs craft beer. Big Beer grows through acquisitions, cost-cutting and pushing light beer, which has lower alcohol. Craft beer grows through quality ingredients and…taste! With the rise of smaller distillers across the country, there's likely a similar effect happening here with the Maker's Mark "brand." Shrug. So who's up for some Pappy?