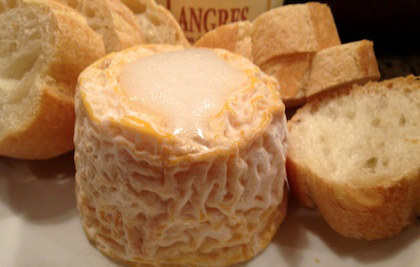 Try on this shelf-talker: "Just think of a scene in a movie where the lead actress, obviously one of the greats, turns around slowly and walks away from the camera taking your entire attention with her." A Chambertin? A '47 Cheval Blanc?
Actually, it's for a cheese. The Times ran a piece last week on cheesemongers and their descriptors. Their often serve up one part metaphor, one part tasting note and often are funny without being overdone. Cheese sales has an advantage over wine sales since a cheesemonger can use the shelf-talker to provoke interest and the consumer has the chance to sample, immediately reconciling his or her palate with the description.
Wine tasting notes have evolved from metaphor to the explosion of aroma wheel fruit descriptors and beyond. Of course, the culmination of wine shelf-talkers is point scores, a fate we would not wish befall cheesemongers. That would be stinkier than a ripe epoisses.
Writing good tasting notes is hard to do. What do you think of cheese descriptors–accurate? Annoying? Enticing?