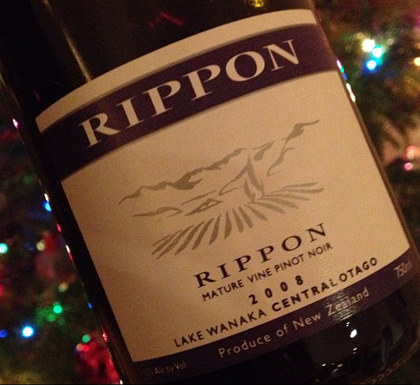 Here's a wine that I enjoyed over the holidaze: Rippon, "mature vines," pinot noir, 2008 from Central Otago(find this wine). It's worth mentioning first and foremost because it is a tasty, succulent pinot, surprisingly, not an in-your-face fruity pinot. Instead, it's got an alluring earthiness and minerality, a snap of acidity, all infused with gentle red fruits and a bit of savory spice. With a moderate alcohol (13% on the label), it's a winner from Middle Earth.
The other thing worth flagging about the wine is the term "mature vines." The vines, planted in 1986 – 1994 on the shores of Lake Wanaka, are among the oldest remaining on the estate. While "old vines" sometimes appears on labels, it is completely unregulated and seems both arbitrary and pretentious as well as occasionally misleading (one person's "old" may be someone else's young.) While "mature vines" is still somewhat arbitrary, it's at least accurate and, imho, not pretentious.
A rarity for New Zealand–it's closed with a cork, granted a "taint-free cork" (aka Diam).