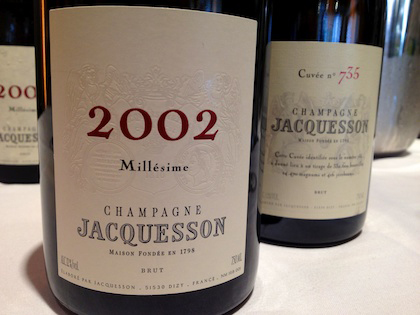 A pair standout champagnes I tasted this fall were from Jacquesson, a small house in Dizy run by the brothers Jean-Hervé and Laurent Chiquet (brothers of Gaston). Jacquesson has a number of interesting things going on as they drive toward distinction. First, they are making only one wine that is a blend of sites, their nonvintage "700" series cuvée. (No, this isn't a BMW.) Each NV blend has a different base wine each year and thus gets a different number. The "735" that I tasted draws 72% of the wine from the 2007 vintage, with the remainder from reserve stocks. It has beautiful poise, a bready aroma balancing on a sprightly core of acidity.
Second, the 2002 is the end of the line for multi-site vintage wines at Jacquesson. From here on out, they will be doing only site-labeled vintage cuvées (there weren't any of those at the walk-around tasting I attended), no multi-site vintage wines. As you might expect, given the vintage, the 2002 was serious stuff, with more depth and complexity than the sprightly "735," but still tightly wound stoniness with many years ahead of it.
Third, the labels are terrific. The back label is possibly the most informative back label out there, with base wine, dosage level, AND disgorgement date, all perfectly understandable in plain English, with no need to go to web sites to look up codes. That said, they do have one of the best winery web sites around at champagnejaquesson.com.