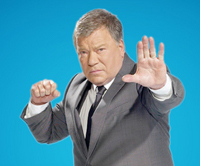 Want to drink from a 12-liter bottle of Domaine Serene with William Shatner? Or get lessons from the cast of Dancing with the Stars at the Bel Air home of Ann Colgin? Or stay at a Napa vintner's guest cottage and drive his Porsche 911 convertible around for a month? Or attend the Kentucky Derby and Belmont Stakes with 5L Napa cab in tow? Then get ready to start bidding at Naples Winter Wine Festival in January. The event is a charity auction run by Naples Children and Education Foundation. Selected lots follow after the jump:
A Hollywood-and-vine lot includes four tickets to the finale of ABC's "Dancing with the Stars" in Los Angeles and an exclusive dinner with Ann Colgin and Joe Wender of Colgin Cellars at their Bel Air home, where professional dancers from the show will offer private dance lessons. Topping off the lot are rare reds: 3L 2003 Colgin Cellars IX Estate Napa Valley Red Wine and 3L 2003 Colgin Cellars Cariad Napa Valley Red Wine.
A "heart of Burgundy" lot holds treasures from Domaine Ponsot, a legendary multi-generation winery. The lot comprises one 3L 2009 Domaine Ponsot Clos de la Roche Cuvée Vieilles Vignes Grand Cru along with two nights of luxury accommodations in Burgundy for two couples. The lot includes a private tour of Domaine Ponsot, private visit to the Château du Clos de Vougeot with Laurent Ponsot and the owners of the Château along with a 10-course finale dinner prepared by Michelin-starred Chef David Zuddas and paired with Ponsot's 12 Grand Crus.
Wine combines with America's Cup for this lot. It includes a case of Kistler Vineyards 750ml bottles (three each) of Cuvée Cathleen Sonoma Mountains Chardonnay, Durell Vineyards Carneros Chardonnay, Cuvée Natalie Silver Belt Vineyard Pinot Noir and Pinot Noir from 2008-2010. The lot also features a two-night weekend stay aboard the yacht Kealoha during the America's Cup in the San Francisco Bay area for three couples, a VIP tour and tasting at Kistler Vineyards, a private lunch at Durell Vineyard and dinner at Gary Danko in San Francisco.
A month-long, Napa Valley immersion like none other defines this lot. Arriving via business-class air, two people stay at the private, three-bedroom farmhouse at renowned Poetry Vineyard and have use of vintner Cliff Lede's Porsche 911 convertible for one month. The winning bidder will also enjoy dinner hosted by Cliff Lede at his art-filled residence, with wines from his personal wine cellar; 30 bottles of famed Napa Valley wine selected by Cliff Lede Vineyard's Master Sommelier Jennifer Huether; access to the Cliff Lede Vineyards' concierge team; dinner at The French Laundry with wine pairings by the sommelier; private cooking class with Cindy Pawlcyn of Mustards and Cindy's Backstreet Kitchen; and four private tours and tastings at some of Napa's top properties. Finally, to take home are a selection of Cliff Lede wines including a 6L 2009 Cliff Lede Vineyards Poetry Cabernet Sauvignon, Stags Leap District, and 3L 2009 Cliff Lede Vineyards Poetry Cabernet Sauvignon, Stags Leap District.
A horse-racing and wine lot puts winners on the finish line of a Triple Crown experience accompanied by race-horse owner and vintner of highly rated Vérité Winery, Barbara Banke. The trip is for two couples and includes VIP tickets on Millionaire's Row to the Kentucky Oaks and Kentucky Derby May 2 and 3, with three nights' accommodations at Banke's home in Lexington, Ky. The trip also includes an exclusive visit with thoroughbreds Curlin and Rachel Alexandra. In addition, the winners receive VIP tickets to the Preakness in Maryland on May 18, and VIP tickets to the Belmont Stakes in New York on June 8, with two nights' luxury accommodations during each race. To add to this matchless experience, the lot also includes three 5L 2007 vintages from Banke's vineyard. All meals and ground transportation are included at every location.
Dinner with a Hollywood star comes with this wine lot, which logs in with a 12L 2004 Domaine Serene Mark Bradford Vineyard Pinot Noir, etched and painted. It also features three nights' accommodations at the private, Domaine Serene Winery Hill House in the Dundee Hills of Oregon for four couples, with Domaine Serene wines to enjoy during their stay. Also, winners attend a lavish dinner prepared by Chef Vitaly Paley and hosted at the home of winery proprietors Ken and Grace Evenstad, with special guest Hollywood star William Shatner. Private experiences include a VIP winery tour and special tasting in the dining cave, and a VIP tour of the Evergreen Aviation and Space Museum to see the legendary Spruce Goose and step inside the cockpit – something not offered to museum visitors.
www.napleswinefestival.com