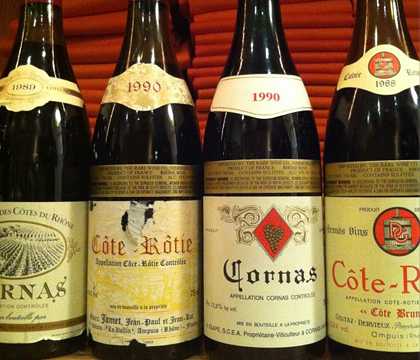 Thanks to social media, you can always tell how badly you're drinking compared to everyone else. And on this Monday night, when I didn't think I was doing too badly with some delicious Indian takeout and a pint of Sweet Action. But, whoa, was I wrong.
Tonight there's a big northern Rhone dinner going down at Bar Boulud. Sommelier Mike Madrigale tweeted from the scene that it was the "Greatest wine dinner ever put on here." Now that is saying something. He also tweeted the menu that included four vintages of Joseph Jamet, Auguste Clape, Verset & Gentaz-Devrieux. These are pretty rare, especially since Marius Gentaz retired in 1993 and died last year (read more on his rare wines); Noel Verset stopped making wines in the early 2000s. The event was billed as "The Golden Age of Cote Rotie and Cornas," featuring 1988, 1989, 1990 and 1991.
Okay, stop drooling now!