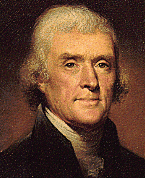 Thomas Jefferson is often known in wine circles as the best friend that wine enthusiasts ever had in the White House. He might even have been the sommelier-in-chief since he frequently poured wine at official functions (he abhorred whiskey, the main drink of the day) and had wine vaults built below the east colonnade for his collection. At that time, entertaining expenses came out of the president's own pocket; a story in the now-defunct Wine News once put the valuation at $11,000, or about $200,000 in today's money.
However, Jefferson was also complicated and deeply hypocritical argues an op-ed in yesterday's Times. While Jefferson maintained that men were "created equal" in the Declaration of Independence, he continued to own slaves at Monticello for fifty years after the Declaration even while some (but not all) of his contemporaries freed theirs. And to make the connection to wine, there was this passage in the op-ed:
[Jefferson] sold at least 85 humans in a 10-year period to raise cash to buy wine, art and other luxury goods.
The article doesn't state whether this was after his presidency. But it does reveal the economic basis for at least some of his wine purchases, which casts the real Jefferson bottles in a different light.