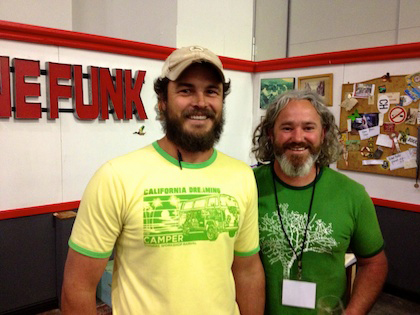 Callie Louw and Adi Badenhorst at Cape Wine 2012
Swartland, an area of the Western Cape where old bush vines abound while razors are apparently scarce, has taken an unusual step for a wine region in the New World: producers have promulgated a membership charter, complete with a code of winemaking. AOC Swartland, anyone?
The hirsute hipsters of Swartland have have taken it upon themselves not just to limit the grape varieties cultivated and the zone of production, as AOCs in France do. But they have gone beyond that to limit the amount of new oak (25% max and barrels only–not staves or chips), ban yeast additions (and yeast supplements), and prohibit acidificaiton among other aspects of winemaking. The rules specify bottle type (Burgundy), estate bottling, and a unique number on the sticker of each bottle. Producers must "strive for" low sulfur use and making wines with low alcohol. Even though there's nothing about labor practices, this charter still ranks among the most far-reaching of all winemaking regulations in the world.
Eben Sadie, one of the original Swartlandistas, has won acclaim as one of the country's top producers with his Sadie Family Wines (soon to be imported to the US again). He said while pouring me a taste of his Sequillo 2011, a blend of mostly chenin blanc, at the recent Cape Wine 2012: "We all realize that we need a lot of guys to be making good wines to get recognized." To make non-fruit bomb wines, the producers employ often harvesting earlier and blending higher acid varieties into blends. For example, for the wine he poured me, Sadie harvested the palomino and clairette at 11% alcohol. "If I was in the Loire, my wine would be 12.5% alcohol," he said. "But I'm in Swartland, so it's 13.5%."
Andrea Mullineux, the UC Davis-educated half of Mullineux Family Wines, says that for her alluring 2011 white blend of mostly chenin from vines planted in 1976 and clairette, that whole cluster fermentation adds potassium from the stems, which also brings freshness even if the wine (which, for the geeks out there, has acidity 5.7g/l). Adding tartaric acid to a wine, which some producers in warm climates do, makes it taste hollow, she said, which is why SIP members can't do it.
Adi Badenhorst's Secateurs 2012 white, which sells for about $12 in the US, would certainly have a strong case for sporting the best quality-to-price ratio of chenin that I tasted in South Africa. It's from vines planted in the 1960s, hand-harvested, fermented over 20 days and left on the lees for seven months. The resulting wine has the honeyed notes of chenin and surprising complexity for an entry-level wine.
Callie Louw makes the one (red) wine at Porseleinberg, a newish project from Boekenhoutskloof. Louw describes his hands-off, feet-on winemaking in Swartland: "We just bung it all in the tank, do a little gumboot dance and see what happens."
The Swartland Independent Producers have excellent graphic design and they know how to put on an event as tickets to their annual Swartland Revolution sell out quickly. It could just be marketing. And, like the famous rules of Animal Farm, the various tenets of the SIP manifesto could be diluted ("no animal shall sleep in a bed–with sheets"). But I'm willing to give them the benefit of the doubt–they have enthusiasm for what they are doing and the results are in the glass. It will be interesting to see if other groups around the wine world attempt to follow their example and codify their beliefs in winemaking practices.