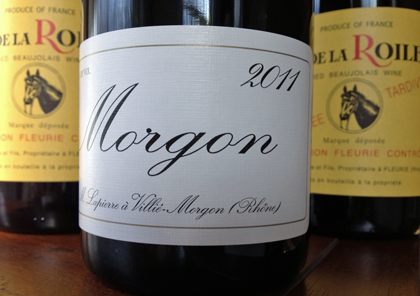 Beaujolais has had a string of great vintages–2009 was warm, which made for fuller wines (relatively speaking) while 2010 and 2011 have made some gorgeous, classic wines. Unfortunately, the run stopped with 2012, which was difficult.
So focus on the 2011s, now on the shelves. I picked up some Lapierre Morgon 2011 before Hurricane Sandy hit; after a week without power, it was a delight to pop a bottle with friends, lights blazing and heat pumping again. This was Mathieu Lapierre's first full vintage making the wine and he maintains the light touch in the cellar that his father established. The wine has tremendous poise, delicacy and transparency, some fruit coming through, but also the stony minerality.
Similarly, the Clos de la Roilette wines of the Coudert family are also stunning in 2011. These serious Fleuries, especially the Cuvée Tardive, almost have more oomph than the Lapierre Morgan. All three of the wines have a lip-smacking appeal, that makes you want another glass, reach for some more food, and generally love life.
These are among the best in Beaujolais so it is amazing that they are also relative values at about $25. And the 2011 "regular" Roilette is about $20 and gorgeous. These are wines that I buy every year and one or the other always gets a place at our Thanksgiving table.