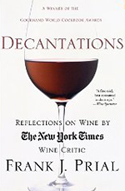 Frank Prial, who wrote the Wine Talk column for the Times for the better part of three decades, has died. An obituary in the Times has details on his career and important place in the history of wine writing, particularly in the 1970s when specialty wine publications had yet to emerge.
He had previously worked at the Wall Street Journal and brought a business reporter's sensibilities to the task and often sought the business or political angles in his stories.
He also had a human touch. I recall him once telling a group of us scribes about the best wine he ever had. Even though he had the opportunity to taste many of the world's finest wines over the course of his career, the best wine he ever had was some rotgut American "Chablis," the first wine he had back on American soil after serving in the Korean war.