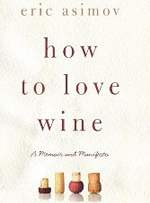 SIPPED: satire
"Why do I need a book about "How to Love Wine?" Who the hell needs to know how to love wine?" The HoseMaster does a blind book review–a review without reading the book.
POPPED: bubble pricing?
Wine auction prices to decline by 20%? Might happen, insiders say. [Decanter.com]
SPIT: cost cutting
In the name of reducing "irresponsible drinking," the government may prohibit supermarkets in Britain from offering discounts on multi-bottle purchases. The resulting price hike may be difficult for some to swallow. [Telegraph]
SIPPED: cost cutting
Beck's beer sold in the US is now brewed in St. Louis. Scandale! A Bloomberg BusinessWeek story on how CEO Carlos Brito is running AB InBev "like a private equity investor." That leaves a big opening for craft beer.
SPIT: timely phrasing
NY Gov Andrew Cuomo said he will put promotion of the state's wine and beer "on steroids." Jeesh, next thing you know he will want them to win the Tour de France! [AP]