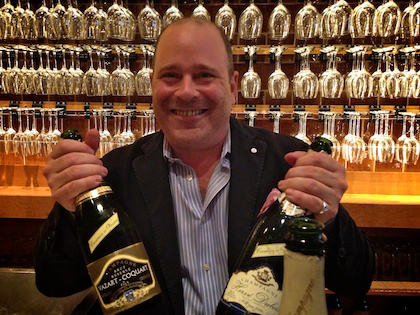 In the ongoing debate about whether champagnes should have disgorgement dates on the labels, discussion has mostly been in favor of the practice. Some critics refuse to review a nonvintage wine without a disgorgement date. (What is disgorgement?)
At the portfolio tasting of Pas Mal Selections in New York last month, Peter Wasserman expressed hesitations about the sole focus on disgorgement dates. Peter works for Becky Wasserman Selection aka Le Serbet (his business card reds "head of anti-marketing and sales prevention"), the Burgundy-based exporter that represents almost 20 Champagnes. He said that the disgorgement date alone doesn't reveal anything about the base wine, which vintage it is or how long the wine has been on the lees. Nor does it say whether the wine has been aged in the bottle with a cork closure or a bottle cap. He estimates some of his growers disgorge 20 times per wine, so if a critic reviewed only one disgorgement date and consumers sought out only that one, he would be at a "commercial disadvantage." Thus he has invited critics interested in including disgorgement dates to review a wine from each disgorgement date. "They do it for Jacques Selosse," he says.
For nonvintage cuvées, Wasserman favors the vintage of the base wine as the most important information for consumers. Thus the champagnes of Le Serbet will have the base wine and the year of disgorgement on the label (though not all of his US distributors were on board with this at the time we spoke). More information will be available about each wine on the Le Serbet web site, a good move to engage the tiny percentage of consumers who care to find out more.
While he prefers more information on the label, he feels that the focus on disgorgement dates can lead consumers to seek out the freshest. That's unfortunate, since, in his view, many retailers have excellent storage and nonvintage cuvées are complex, often tasting better with one or two years on the cork.