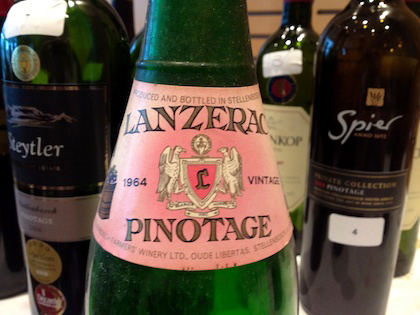 One of the questions that I had going to South Africa was what gives some red wines, notably pinotage, a smoky, burned rubber smell. Pintoage is quite polarizing in the US; Lettie Teague of the Wall Street Journal, for example, categorically states that she loathes the variety.
So I attended a pinotage seminar last week at Cape Wine 2012 with an open mind, hoping to learn more about the causes of these polarizing aromas. The presentation focused on a history of the grape, a cross of pinot noir and cinsault that is grown as a bush vine, which, the presenter said, is made either by high-yielding vines for a lighter style or low-yielding style that has both higher alcohol and is aged in new oak barriques. After the presentation, much of the subsequent discussion focused on the food-friendliness of the wines and an extensive list of food pairings and serving suggestions such as grilled meats, chilling the wine for lunch on a warm day, and a couple of mentions of eggs cooked in pinotage as a particular delicacy.
The wines dated back to a Lanzerac 1964, which exhibited a pleasant tea-like quality that was still holding up surprisingly well. The wines since the mid-90s have been aged in oak While the wines poured largely demonstrated a lack of the offending aromas, when the question "love/hate" came up from the attendees, the panel participants surprisingly denied that the grape was controversial. After one panelist said he didn't want to discuss the "love/hate" question, another speaker conceded that in 1977, a group of visiting Masters of Wine did come and tell them that many of the wines tasted like rusty nails, the equivalent of a "kick in the whatsits." This MW voyage and their subsequent commentary back in the UK led to both a stagnation of plantings as well as lingering apprehensions about the grape in Britain. But the panelists said that the Benelux countries and the US were unaffected and pointed to a growth in plantings that now accounts for about six percent of South Africa's vineyards.
So it was surprising that the pinotage pairing most prominently on display was with the elephant in the room. Or perhaps it was ostrich given the head-in-the-sand response? Surely, it would have been more fruitful to confront the issue head-on and describe what accounts for it.
During my week in South Africa, I had the 1999, 2009, and 2010 Kanokop pinotage and none exhibited any rubber or vegetal aromas (though a 1998 did); these were the best pinotages I tasted.
After the panel, I found Abrie Beeslaar, winemaker at Kanonkop since 2002 for further comment. He underscored that picking window for pinotage is small, about 48 hours, with it being underripe or overripe outside of that. He also punches down every two hours in open-top concrete fermenters during a quick, three-day fermentation, saying that even for high-end wines, the grape doesn't take well to French-style extended macerations. Some of the large producers of the variety may not take as much care and some low-priced wines are shipped in bulk and bottled overseas, which could add to problems of the grape that is both high pH and high acid, which is unusual and could make it difficult for some makers. If the panel had captured some of this, it would have provided some helpful winemaking background as to why pinotage can be polarizing.
What's your experience with pinotage? Have you ever had a higher-end one or one with age?