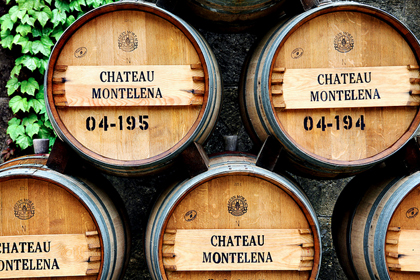 Could sales of Chateau Buffalo spread like wildfire in wine shops on the banks of the Seine, elbowing French wine from consumers' shopping baskets? That's what a trade group from Bordeaux fears.
The EU is considering a proposal to allow American wines to export to Europe using the name "chateau." In France, to have "chateau" on the label means that the wine must be 100% estate fruit whereas in the US, fruit can be purchased from other growers and the wine is not forcibly an estate wine. Laurent Gapenne, head of a Bordelais trade organization that protects appellations, hit the media, telling Le Parisien that he thought allowing the term would be the thin edge of the wedge. "There is a great danger that the notion of the chateau will disappear in France … the consumer is going to feel lost," the Telegraph translated his remarks.
Really? A bit of history: the 2005 US-EU bilateral wine accord allowed US wineries to use "semi-generic" names, such as chateau, but the US agreed to prevent further issuance of the word chateau in winery names (all trade law experts out there, feel free to chime in if I'm remembering wrong). Then, in 2008, the EU prohibited the importation of US wines with "chateau" in the name (has the WTO weighed in on this?). If my recollection of the 2005 accord is correct, then we are left with fewer than 60 wines that could use the term. Like Chateau Buffalo. Or Chateau Manzanita. (Enjoy the full list after the jump.) Could French consumers really mistake these as French? I'm all for specificity, but do they know the terroir of Buffalo or even California well enough to discern estate wine from negoce wine from those regions?
And then there's the issue of our exports to France. Half of all our exports are in containers greater than two liters. So that's probably not estate wine nor would it be confused as such. In 2010, the US exported $441 million of wine to the EU and less than $16 million of that was to France. Even Gallo tried to target the French market a while back and found it a tough nut to crack. Coals to Newcastle and all that.
Thus Gapenne is swinging at shadows. He shouldn't fight to preserve chateau as synonymous with an estate wine for American wine; the 2005 accord recognized the use of chateau. He should, however, fight to have estate wines from American "chateaus" labeled as such, regardless of the name on the label. It's hard to argue against more precise labeling, in any language.
AR-W-31 CHATEAU AUX ARC, LLC DBA CHATEAU AUX ARC
GA-W-15003 CHATEAU ELAN, LLC
IN-W-15011 ACP WINERY, INC. CHATEAU POMIJE RESTAURANT
IN-W-15013 CHATEAU DE PIQUE, INC. CHATEAU DE PIQUE
IN-W-47 CHATEAU THOMAS WINERY, INC. CHATEAU THOMAS WINERY
KY-W-59 THE ELEMENTS ENTERPRISES, LLC CHATEAU DU VIEUX CORBEAU
MI-W-121 DANNY BRUCE MATTHIES, LUCIE FONTAINE MATTHIES CHATEAU FONTAINE WINERY
MI-W-15086 CHATEAU AERONAUTIQUE WINERY, LLC CHATEAU AERONAUTIQUE
MI-W-15133 CHATEAU DE BAY, LLC CHATEAU DE BAY
MI-W-15179 CHATEAU LAKE CHARLEVOIX ESTATES LLC CHATEAU LAKE CHARLEVOIX ESATES
MI-W-38 CHATEAU GRAND TRAVERSE, LTD CHATEAU GRAND TRAVERSE
MI-W-85 CHATEAU OPERATIONS, LTD. CHATEAU CHANTAL
MO-W-15048 NATHAN Z. AND LISA A. OESCH CHATEAU LISA
NC-W-23 JOHN ROBERT HOWARD CHATEAU A COEUR OUVERT
NC-W-37 LINDA D. EHLERS CHATEAU LAURINDA
NY-W-137 CHATEAU FRANK, INC.
NY-W-15032 ROBERT DUSSEAU, STEPEN C. DUSSEAU CHATEAU DUSSEAU
NY-W-15039 CHATEAU BUFFALO, LLC
NY-W-15095 CLR WINE, INC. CHATEAU LAFAYETTE RENEAU
NY-W-15178 JAMES T. AND KATHLEEN M. BAKER CHATEAU NIAGARA WINERY
NY-W-244 CHATEAU RENAISSANCE, INC.
OH-W-15085 CHATEAU TEBEAU, LLC
OR-W-15037 CHATEAU PLATEAU ENTERPRISES LLC SPRINGHOUSE CELLAR
OR-W-15240 CHATEAU BARNABY, LLC CHATEAU BARNABY
OR-W-417 CHATEAU BIANCA, INC. CHATEAU BIANCA
OR-W-423 LINDE G. KESTER AND SHARON K. KESTER CHATEAU LORANE
SD-W-15012 SCOTT PAUL OVERMYER AND SYLVANIA ROSE OVERMYER CHATEAU SYLVANIA VINEYARD AND WINERY
TN-W-31 DEBORAH W. PROCTOR CHATEAU ROSS
TX-W-21006 CHATEAU WINE, INC. BODEGA WINE BAR
VA-W-15004 PETIT CHATEAU WINERY LLC
VA-W-15011 CHATEAU O' BRIEN LLC CHATEAU O' BRIEN AT NORTHPOINT
VA-W-15074 CLIFFORD PAUL AMBERS CHATEAU Z VINEYARD
VA-W-27 CHATEAU MORRISETTE, INC. CHATEAU MORRISETTE
WI-W-15000 CHATEAU ST CROIX WINERY & VINEYARD LLC
WA-W-15112 CHATEAU ROLLAT WINERY, LLC
WA-W-15324 CHATEAU ROLLAT WINERY, LLC CHATEAU ROLLAT
WA-W-15369 WHITELATCH- HOCH, LLC LE CHATEAU
WA-W-721 CHATEAU FAIRE LE PONT LLC CHATEAU FAIRE LE PONT
CA-W-1515 DIAGEO CHATEAU & ESTATE WINES COMPANY ROSENBLUM CELLARS
CA-W-1788 RAYMOND E. MCKAY AND BARBARA M. MCKAY CHATEAU RODIN WINERY
CA-W-16977 CHATEAU DAVELL WINERY CHATEAU DAVELL WINERY
CA-W-15015 CHATEAU ROUTON, INC. CHATEAU ROUTON
CA-W-2758 JEDL ENTERPRISES, INC. CHATEAU LASGOITY
CA-W-1127 GREAT AMERICAN WINERIES, INC. CHATEAU JULIEN
CA-W-3620 GARY ALAN SINNET CHATEAU SINNET
CA-W-530 DIAGEO CHATEAU & ESTATE WINES COMPANY CHALONE VINEYARD
CA-W-2112 JAMES L. BARRETT AND VENDANGE WINE MERCHANTS, INC. (G.P.); CM ASSOCIATES L.P. CHATEAU MONTELENA
CA-W-1505 DIAGEO CHATEAU & ESTATE WINES COMPANY STERLING VINEYARDS
CA-W-15990 BLACK COYOTE CHATEAU, LLC BLACK COYOTE
CA-W-3373 DANIEL RAY MANIES CHATEAU MANZANITA WINERY
CA-W-1440 DIAGEO CHATEAU & ESTATE WINES COMPANY ACACIA WINERY
CA-W-2105 PATSY A. MCVICAR CHATEAU CHAIS DE NAPA
CA-W-403 DIAGEO CHATEAU & ESTATE WINES COMPANY BEAULIEU VINEYARD CELLARS
CA-W-3298 DIAGEO CHATEAU & ESTATE WINES COMPANY PROVENANCE VINEYARDS
CA-W-17227 RTB MANAGEMENT, LLC CHATEAU BOSWELL WINES
CA-W-1497 DIAGEO CHATEAU & ESTATE WINES COMPANY BLOSSOM HILL WINERY
CA-W-16701 CHATEAU MARGENE
CA-W-3548 MARK S. HUTCHENREUTHER CHATEAU DE DEIGHTON WINERY
CA-W-17006 CHATEAU MARGENE CHATEAU MARGENE
CA-W-16872 RICHARD SCHMIDT CHATEAU DE MONTRICHARD
CA-W-2662 CHATEAU FELICE CORP. CHATEAU FELICE
CA-W-2161 CHATEAU DIANA, LLC CHATEAU DIANA
CA-W-15529 DIAGEO CHATEAU & ESTATE WINES COMPANY CDC
CA-W-1978 DIAGEO CHATEAU & ESTATE WINES COMPANY DIAGEO CHATEAU & ESTATE WINES