Picture yourself at a wine trade tasting: there are hundreds of wines to taste but you have to juggle a bulky tasting notebook, a pen, and a wine glass while swirling, spitting and dodging fellow tasters who may be heading to the spit bucket. Wouldn't it be so much easier if you could see the tasting book on your smart phone, sort by style or wine region, and take notes in a profile?
That's what I did yesterday at a tasting of the NYC distributor Verity Wine Partners. It was my first tasting without using a pen and, having done it, I can't imagine doing it any other way. Not only was it so much more convenient during the tasting, but when I got back to my desk, I could access my tasting notes and star ratings online. There was no booklet to throw out or clutter my office and no scribbling that was indecipherable the next day.
Such an approach is now possible thanks to an innovative company called SevenFifty, a startup that is quietly dragging the wine industry into the 21st century. So much of the trade seems out of date–such as those tasting notebooks–that it has yet to reap the benefits of the digital revolution.
Take another scenario. You're a buyer at a shop or a restaurant, you see a picture from a friend on social media or read a more formal review somewhere of a wine that's new to you but sounds great. You want to contact the distributor to arrange a sample or place an order, but don't know who carries it. So you go to SevenFifty.com, plug in the wine name, and get the distributor info, frontline pricing, discounts, a label image and more.
Aaron Sherman, 28, founded SevenFifty in January with two partners. A former sommelier, he confronted the actual problem of trying to locate a wine, and being frustrated finding it. After stints as a sommelier at WD-50, l'Artusi and then running the beverage program at Jose Andres' restaurant The Bazaar in LA, he decided to tackle wine's outdated information systems head-on by forming SevenFifty with Gianfranco Verga (formerly of importer Domaine Select) and Neal Parikh.
The response has been "surprisingly, overwhelmingly positive" from New York wholesalers, he says. Starting by targeting "indie" wholesalers in New York, Sherman estimates that with 80 wholesalers onboard, they have about half the distributors and wines available in NYC and feature "wines that most wine buyers are interested in." (They do hope to include Southern and Empire in the future.) Wholesalers have to post prices with the State Liquor Authority and SevenFifty charges them a "modest" fee to upload the same information to their site. Other states will follow, with New Jersey rolling out next.
"SevenFifty saved my life," Lara Lowenhar, assistant beverage director at l'Apicio told me yesterday. The restaurant will be opening in a few weeks, but Lowenhar said she was able to put together a draft wine list on SevenFifty and price it out to make sure the wines were within her total budget. "Instead of taking a week, it took me two days," she said. Previously, she and other sommeliers had to rely on print materials, which were often out of date or incomplete.
Tyler Drinkwater of Dell'Anima says that "it's great to round out an order." If he knows he wants a wine from a distributor already, he can sort by various criteria (e.g. white wine, northeast Italy, $10 wholesale) and throw something else. Lowenhar says that if she plugs in a wine and it's not available, she founds the automatically generated suggestions to be useful. All inventory and pricing on SevenFifty are current, which saves back-and-forths with sales reps.
Getting back to the tasting book experience of rating wines in a profile, more features are in store to share information and facilitates discussion between wholesalers and buyers through the platform.
Unfortunately, the whole package is limited to the trade–a liquor license number is required to set up an account and authorize subsidiary profiles for buyers or sommeliers. But the application is so useful, hopefully a consumer version isn't too far behind.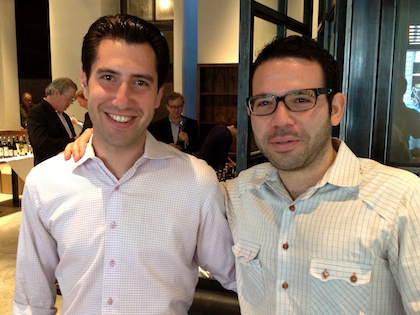 Aaron Sherman and Gianfranco Verga of SevenFifty.com