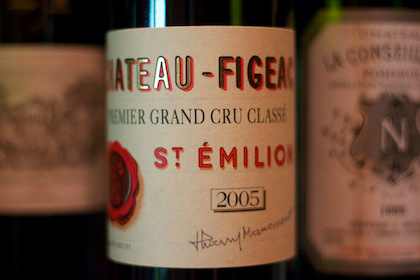 The new, vintage 2012, St. Emilion classification was handed down from Paris last week. About the most unusual thing about it is that INAO actually put the materials on their website (Hooray! Even thought they show an unhealthy taste for pdfs and the media contacts still don't have email addresses listed.)
There hasn't been any controversy (though some did wonder what happened to Chateau Magdelaine, which Moueix merged into Bélair-Monange). The last update, in 2006, resulted in legal challenges and a court rendering the whole reordering invalid. Lat week, Chateaus Pavie and Angelus were promoted to the top, top tier, while some other modern-style wines also ascended. (Full list after the jump.) The new classification largely follows the market prices and Parker scores for the wines.
If the authorities wanted to do something bold, they could have promoted the excellent Chateau Figeac. It would have been a posthumous honor for Thierry Manoncourt who apparently always wanted to see the estate as a Premier Grand Cru Classé (A). Also, Parker has had a burr under his saddle about Figeac, giving only two of their wines scores over 90 points and going years without reviewing the wines, which are almost always under 13.5% alcohol. And forget quality, the last time around, Figeac was not promoted to the top, top tier because their prices were not high enough!)
Or the INAO could have classified vineyards instead of simply the chateaus themselves but that would be crazy talk! (On related note, Valandraud, which was promoted to the second tier, has expanded its modest vineyard holdings by a factor of 20 over the years.)
By rewarding many wineries that already receive high Parker scores and/or high prices, the classification is of little, stand-alone use to consumers and gives some producers the opportunity to raise prices further.
Related: "How Angelus became James Bond's choice"

Premiers Grands Crus Classés:
Château Angélus (A)
Château Ausone (A)
Château Cheval Blanc (A)
Château Pavie (A)
Château Beausejour (Héritiers Duffau-Lagarrosse)
Château Beau-Sejour Bécot
Château Belair-Monange
Château Canon
Château Canon La Gaffelière
Château Figeac
Clos Fourtet
Château La Gaffelière
Château Larcis Ducasse
La Mondotte
Château Pavie Macquin
Château Troplong Mondot
Château Trottevieille
Château Valandraud
Grands Crus Classés:
Château L'Arrosée
Château Balestard La Tonnelle
Château Barde-Haut
Château Bellefont-Belcier
Château Bellevue
Château Berliquet
Château Cadet-Bon
Château Cap de Mourlin
Château Le Chatelet
Château Chauvin
Château Clos de Sarpe
Château La Clotte
Château La Commanderie
Château Corbin
Château Côte de Baleau
Château La Couspaude
Château Dassault
Château Destieux
Château La Dominique
Château Faugeres
Château Faurie de Souchard
Château de Ferrand
Château Fleur Cardinale
Château La Fleur Morange
Château Fombrauge
Château Fonplegade
Château Fonroque
Château Franc Mayne
Château Grand Corbin
Château Grand Corbin-Despagne
Château Grand Mayne
Château Les Grandes Murailles
Château Grand-Pontet
Château Guadet
Château Haut-Sarpe
Clos des Jacobins
Couvent des Jacobins
Château Jean Faure
Château Laniote
Château Larmande
Château Laroque
Château Laroze
Clos La Madeleine
Château La Marzelle
Château Monbousquet
Château Moulin Du Cadet
Clos de l'Oratoire
Château Pavie Decesse
Château Peby Faugères
Château Petit Faurie de Soutard
Château de Pressac
Château Le Prieuré
Château Quinault l'Enclos
Château Ripeau
Château Rochebelle
Château Saint-Georges-Cote-Pavie
Clos Saint-Martin
Château Sansonnet
Château La Serre
Château Soutard
Château Tertre Daugay
Château La Tour Figeac
Château Villemaurine
Château Yon-Figeac