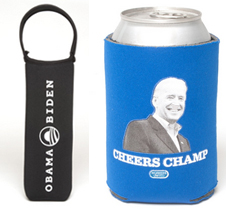 Forget soccer dads and hockey moms: there's an even larger demographic that politicians can target. Drinkers! Gallup's most recent poll pegged 66% of Americans as having some form of tipple.
A couple of weeks ago in Iowa, Obama bought a round of Bud Light at the Iowa state fair, setting off chants of "Four more beers!" Then he gave out a bottle of homebrew from the White House and later revealed the recipe. Now, his campaign store is selling a campaign BYO wine bag and a beer soda cozy with Biden's smiling visage on it.
Mitt Romney, a Mormon, does not drink alcohol (though Paul Ryan may like off-vintage Burgundy). Nor does the Romney campaign store have any alcohol-related paraphernalia. Beer and wine as a wedge issue? The issue may not be insurmountable for Romney–recall another teetotaler who managed to win "the guy you most want to have a beer with" in the 2004 election.