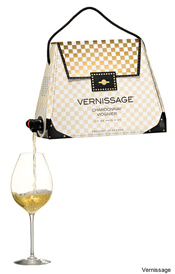 You may think you've seen it all, but get a load of this: box wine in the shape of a lady's handbag.
While they innovators may be on the right track, their genteel Upper East Side/16e arrondissement styling is probably the wrong statement for those who want to haul 1.5 liters of Chardonnay/Vinognier around.
Probably better to collaborate with Camelback!
Will Q design a man's briefcase version for 007?
No More Shame: Boxed Wine Now Comes In A High-End Fashion Purse [NPR Salt blog]