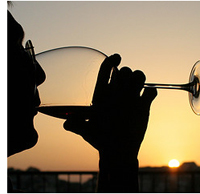 It's time for bluff the reader! To those at Wait, Wait…Don't Tell Me!, bear in mind that imitation is the sincerest form of flattery. One of these tasting notes and author combinations below is true, the others are false. Hit the comments with the right answer!
A) "Acrid aroma of seared steak, hot metal and welding fumes." -Gary Vaynerchuk's description of a cabernet franc from Gary, Indiana.
B) "Imagine having to choose between your ideal fantasy sexual partner and this wine–-and you choose [the wine]! That's how good it is." -Antonio Galloni on the $2,500-a-bottle Krug Clos d'Ambonnay.
C) "Usefully light. Not heavy. Not tired. Go for it! In private, of course." -Jancis Robinson on Gallo Family Vineyard Moscato.
D) "Tastes like the urine of Satan after a hefty portion of asparagus." -HoseMaster of Wine in a roundup tasting of California sauvignon blancs.
Answers to follow…