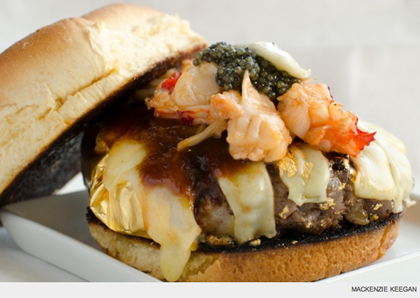 Behold the douche burger, a "a f—ing burger filled and topped with rich people s–-t."
The $666 burger has gotten a lot of media attention but for the description, we'll cut right to the owner of 666 Burger, a food truck (yes, this burger comes from a truck, presumably relocated to the Hamptons for the season):
"Kobe beef patty (wrapped in gold leaf), foie gras, caviar, lobster, truffles, imported aged gruyere cheese (melted with champagne steam) kopi luwak bbq sauce and Himalayan rock salt. It may not taste good, but it will make you feel rich as f–k. Douche."
Hey-oh! That's some spicy talk to go with the champagne-melted gruyere! Even though the 666 burger man only sold one burger and more or less admits it's a hoax, which wine would you pair with this burger? Something to go with the lobster, the caviar, the kopi luwak sauce? Or match the minerality of the gold leaf? Goldschlaeger? Ace of Spades, the "gold bottle"? Or just a magnum douchy wine? Or is it…impossible?!?