In today's NYT, Eric Asimov writes about their tasting panel's assessment of Chenin Blanc from South Africa ("A Wine That Isn't What It Used to Be"). He says they found little to like, perhaps because of "difficult" vintages of 2010 and 2011, high yields or the unforgiving nature of screw caps. This is a change from five years ago when he found several wines in the category worth recommending.
Even though the story is in today's print paper, it went online last Thursday. Last Friday, James Molesworth, who reviews South Africa wines (among others, including the Loire) for Wine Spectator, challenged Asimov's findings on Twitter, saying, "You missed a lot of wines. A 20 wine sample every 5 years to make a sweeping statement on? Weak." They went back and forth a few times (though Asimov's July 13 tweets have oddly disappeared from his feed). Molesworth tastes and reviews many more than 20 chenin blancs from South Africa every year as he adopts a more comprehensive approach.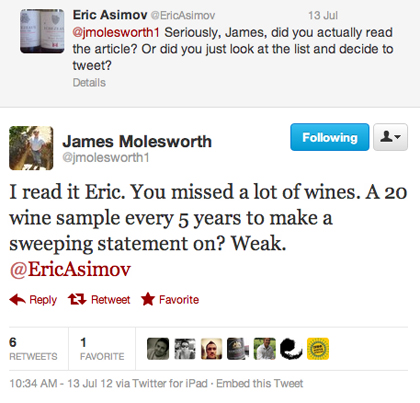 It's rare to see wine critics disagree publicly. What do you think led to their different views of the category, their methodology or taste preferences? While the Time's sampling strategy may miss some good wines in any given column, this seems to be a matter of taste. One of the wines that Asimov mentioned in the column, the 2009 FMC from Ken Forrester, wasn't recommended since he (and the panelists?) found it "so sweet, oaky, unbalanced and fatiguing." In reviewing the same wine, Molesworth gave it 93 points, calling it "Ripe and lush, with delicious creamed pear, ginger, heather and fig kept honest by fresh acidity that's well-embedded on the toasty finish…Gorgeous." So it seems like different strokes for different folks. Which is fine. Because even if scores seem to impart a sense of objectivity to a wine, wine tasting and enjoyment remain exercises in subjectivity. Which, of course, makes for good discussion.