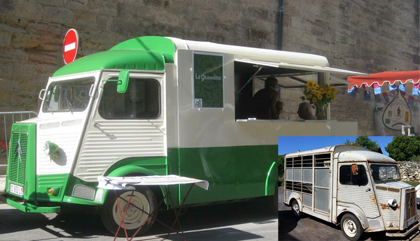 La Gramiere's wine tasting truck (see inset of truck before Amy pimped her ride)
Have you eaten lunch or ice cream from a food truck and thought there was something missing? I have. Where's the wine truck? It has been found in the south of France.
Amy Lillard, an American who is living the dream of making wine in the Rhone under her La Gramiere label, recently posted a picture to Facebook of her newly refurbished wine truck. She details the conversion of the Citroen on her blog saying that the truck will serve as a mobile tasting room:
We're going to do evening tastings with tapas and wine, sometimes in our vineyards as the sun goes down, sometimes in the surrounding villages! We are also going to be inviting guest "vignerons" to pour their wines along with ours, and guest chefs to cook for us! Sounds fun doesn't it?
Good to see that the turn in French wine policy toward the puritanical hasn't prevented such creativity. Of course, licensing laws in the US give this a 0.0001% chance of ever happening here. So get your fix in France. The Super Camion de Dégustation was last seen at the evening market in Uzès…
Related: Food Trucks in Paris? U.S. Cuisine Finds Open Minds, and Mouths [NYT]