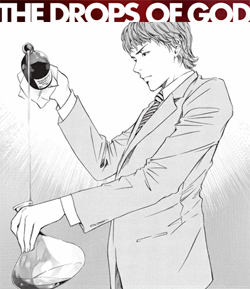 "Dad's reading a comic book!"
My kids thought it hilarious to see me reading Drops of God, the Japanese manga sensation that swept through Asia. Its alluring powers were even on display on the beach where my younger son wanted to me to read it to him though eventually he wandered off and resumed building sand castles. But if you are old enough to enjoy wine, the innovative, enthralling, soap opera for wine geeks will lure you in no matter if you've just cracked your first moscato or if you were weaned on Meursault. And it is perfect beach reading (as I can testify having selflessly read it in situ on your behalf).
The story's protagonist, the young Shizuku Kanzaki, embarks on a quest laid out in his father's will: to correctly identify twelve "apostles," or heavenly wines that are the "drops of God" in title. Shizuku turned his back wine while his father was alive, rebuffing the beverage that made his father into a legend of the wine world as a critic as well as a fortune (he bought a lot en primeur and consulted to wineries, neither of which damaged his reputation as a critic, apparently). But his father always offered him things to smell and taste, which honed his sensory perception for his quest. Or contest, more aptly: Shizuku is pitted against Issei Tomine, just the sort of young, suave, arrogant, know-it-all who makes the perfect rival for Shizuku's more passionate approach as he evolves swiftly from wine newbie to master. At stake, is the entire collection that the elder Kanzaki amassed over a lifetime, as well as the family's grand house.
Along the way, wines are praised rapturously, both in two-page illustrated spreads as well as with lavish descriptions. Consider this one for the first of the "twelve apostles:"
I wander deep within a forest thick with pristine primeval growths,
As the humid scent of life wafts from the moss-covered trees,
I walk toward the heart of the forest in search of solace.
The bounteous blessing of nature suits a virgin forest unsullied by human hands
Ah, behold, a pair of violet butterflies, tangling in flight!
Perhaps this little spring is your Holy Land.
The two contestants parse the words and embark on a method of arriving at an answer to the riddle. Shizuku's approach is more fun as he discusses it with friends, finagles ways to taste rarified wines, closing in on the region and village to ultimately make his pick. Along the way, he helps a woman with amnesia recover her past through a glass of wine, gets a tutorial from an eccentric wine expert who literally stores rarefied Burgundy in a hole in the ground, and squares off with a business rival in a blind tasting.
It's easy to see how the books drove wine sales across Asia more than any wine critic who merely assigns anodyne point scores to wines. Drops of God succeeds at the highest level: not only does it inform and engage the reader through the narrative and illustrations, it makes you yearn to start your own quest, to research regions and producers while pulling some corks on fine bottles to share with friends.
Drops of God, Volumes 1 – 4, now available on Amazon in English. (aff link)