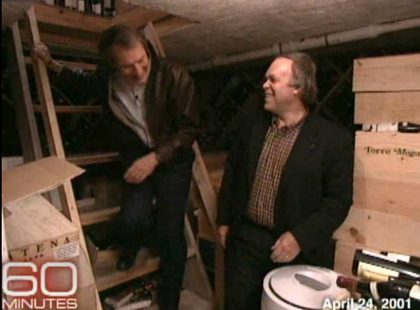 Robert Parker and Antonio Galloni are organizing a lunch of 1982 Bordeaux from Parker's cellar. Yes, the same passive cellar where he brought Charlie Rose and the 60 Minutes cameras in 2001.
For $12,000, attendees will be treated to a lunch at Restaurant Daniel and about 25 wines that Parker says he bought on release. Fully $6,000 per head will go to a charity, which is laudable. The other $6,000 per head, net of the restaurant's, charges, will go to the self-proclaimed hedonist of wine and life. Since he told Charlie Rose he had 12,000 bottles in the cellar, it remains to be seen if this event will be the first of many. Full details on '82 Bordeaux after the jump.
In other Wine Advocate news, Parker published a Napa Cabernet 2002 retrospective that included 17 wines that received 100 points.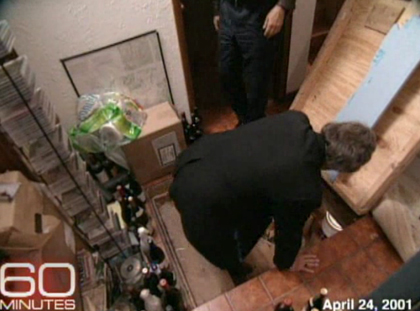 Antonio Galloni writing on eRobertParker.com: Thanks to everyone for being patient. We hit a bit of a bump last week when we learned Wounded Warrior Project could not accept funds raised by our event because we are in the 'alcohol' business. Bob has decided to support the Navy SEAL Foundation, which provides a number of programs and services for the families of active, on-duty Naval Special Warfare forces and veterans.
Tickets for the 1982 Bordeaux: 30th Anniversary Tasting will be $12,000 per person ($6,000 tax-deductible). We will begin taking reservations on Monday July 2nd at 12pmEST. If you would like to make a reservation please send us an email at events@erobertparker.com There will be a limit of two seats per person. Either I or my wife, Marzia, will respond to emails. I am working in France and Italy over the next few weeks, so please do not be concerned if you don't get a reply right away.
The event will be held at Restaurant Daniel in New York City. Registration will begin at 11:30am. Lunch will begin promptly at 12:00pm. Bob and Daniel Boulud will collaborate on a menu that celebrates the dishes that made Boulud one of this country's most acclaimed chefs. We will have speakers from the SEALs in the room to share their experiences and talk about the Foundation. It should be a very special day all around.
This is a list of wines Bob has chosen. With one exception, all of the wines come from Bob's cellar, where they have been impeccably stored since release.
1 Ausone
2 Beychevelle
3 Branaire-Ducru
4 Calon-Segur
5 Canon
6 Certan de May
7 Cheval Blanc
8 Cos d'Estournel
9 Ducru-Beaucaillou
10 Figeac
11 Grand-Puy-Lacoste
12 Gruaud Larose
13 L'Evangile
14 La Lagune
15 La Mission Haut-Brion
16 Lafite*
17 Lafleur
18 Latour
19 Le Gay
20 Leoville-Barton
21 Leoville-Las Cases
22 Leoville-Poyferre
23 Margaux
24 Mouton Rothschild
25 Pichon-Lalande
* Lafite is the only wine that was not bought and stored by Mr. Parker since release
** the information above is correct as of June 28, 2012 and is subject to change.
Related: "Antonio Galloni Talks Wine Advocate Collectors Series, Wine Advocate Ethics"