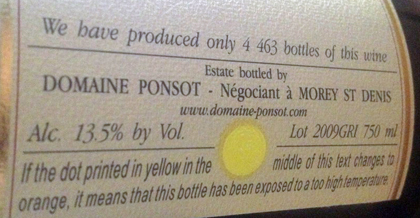 MULLED: if you don't have #RudyFatigue, there are lots of counterfeiting/Rudy Kurniawan details in a first-hand account from a NY collector. [oldvinenotes]
SPIT: the end
Laurent Ponsot tells the NYT that "The [counterfeiting] story is not at the end. This is just a beginning."
COOKED: any wine in a UPS truck in NY today–or an unrefrigerated delivery truck bringing wine to a store or restaurant. Cooked wine > corked wine > counterfeit wine?
APPLAUDED: Laurent Ponsot is combatting not only fraud, but also heat in shipping! Awesome. See above image curtesy of @corkhoarder.
OFFERED: Condolences
A hailstorm that was so bad that it wiped out not only all of this year's crop, but also a third of next year's? It sounds like a headline from The Onion, but it was really from Decanter.com about the Aube region in Champagne.
DISCUSSED: Crushpad, the custom crush facility that started at a warehouse in downtown San Francisco, appears to facing a financial cliff. Lew Perdue had a back-and-forth with their CEO. [wineindustryinsight]
SIPPED: two hybrid wineries are opening in southeast Portland, one with an "enopub." [Oregonlive]
GULPED: vin de soif. They love it in Toronto! Thanks/merci, Beppi! [globeandmail.com]